As we live in a world filled with junk and consumerism is becoming more of a problem, finding ways to repurpose used things is always a good idea. And in doing so, people can save some money by refraining from spending on new stuff.
I experienced junk problems myself and looked for ideas of how to get rid of the old one and create a more interesting future junk. I'll give you some tips that you might find useful.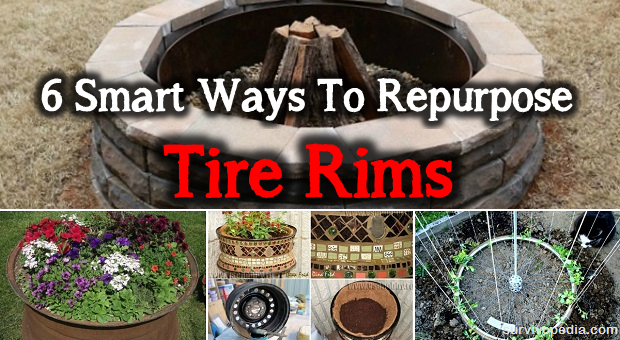 Used tire rims usually conspire to fill the whole garage, so before they manage to do that, you can turn them into an ottoman by simply adding a top. But you must first put some foam and upholstery on the round wooden board.
You can also repurpose a steel wheel for a fire pit/grill in your backyard. Circle it with stones to keep it steady and add heating power. You can grout the stones/bricks or leave them like that so you can move them around.
See if you have an old unused ladder in your shed, that's one item people usually move from here to there for years before they discard it. Using the spokes to put large boards on them you can transform it into a flower stand or a bookshelf.
Now a tip to solve two problems at once: take out all your orphaned keys, old or spare wrench keys and drill a hole at one end in case they miss that. Then give them a U-shape bend, and you have tens of wall hooks to put clothes or stuff in the house or shop.
If you have a garage, you might have a motorcycle headlight gathering dust somewhere. Give it a new bulb light or LED and add a stand and a switch. You'll have a charming vintage lamp in your room. Throw in a pivoting mechanism to make it more practical.  
We got used to the enduring steel filing office cabinets, but we still don't know what to do with them once they're retired. If it has the right size, you can turn it into a rolling kitchen cart. Screw in some casters, give it a fresh paint and put a cutting board on top. For towels or utensils, you can add racks on the sides with a drill and a few bolts and nuts.  You can use a small drill press for this job or simple handheld drill should suffice. 
If you have old tennis rackets hidden in your closet than you can repurpose them into fine-looking mirrors. Get a custom-cut mirror with beveled edges to fit inside the rim and put adhesive on the back of it. Once you press it onto the strings and leave it to dry you've ticked a DIY project that you can hang on the wall.

The pic was taken from: survivopedia.com